iSMP4 Companion
The complete payment solution to revolutionize enterprise mobility

Designed from the ground up for all-purpose mobile use, the iSMP4 Companion can be connected with a tablet or smartphone to create a secure, smart, mobile point of sale (mPOS) system.
Universal mobility and payment acceptance
The lightweight, 7-oz. design makes it easy to accept all forms of payment on the go, including EMV chip & PIN, magstripe, and NFC/contactless. The iSMP4 also supports a wide range of payment use cases and can be used as a companion, integrated, or stand-beside device.
User-friendly and ergonomic design
Designed from the ground up for professional use, the iSMP4 includes a 2.8" backlit color display, the largest in its class, to provide an optimal user experience—even in bright outdoor environments—and an illuminated EMV slot that guides consumer interactions. The accompanying universal tablet enclosure provides businesses with the flexibility to fit a variety of 8" tablets without restricting merchants to a single device. At a total weight of under 2 lbs, the enclosure allows associates to carry and use the iSMP4 and tablet in one hand, with a center gripping point and easy access to the iSMP4's barcode scanner and the tablet's camera.
Enterprise-grade performance and security
The iSMP4 handles the most demanding and fast-paced environments. Equipped with an optional 1D/2D commercial-grade barcode scanner with laser-aiming technology, it reliably scans loyalty cards, coupons, barcodes, QR codes, and even driver's licenses. Its long-lasting 2000mAh battery adds further durability with support for a full workday, plus it can be easily swapped-out for rapid replacement. The accompanying single and multi-bay docking stations enable simultaneous data communication and charging of the iSMP4 and a tablet while providing an advanced locking system to secure all components with a tamper-resistant mounting.
Wide range of connectivity and integration options
Built upon the same platform as Ingenico Group's full-featured payment devices, the iSMP4 provides a single integration across all of your payment initiatives. Pair it with virtually any iOS, Android, Windows, or Linux based device to convert it into a point of sale, and connect via Bluetooth, Wi-Fi, and physical pairing to enable integrated and semi-integrated options. In addition, its modular design and 10-pin connector deliver robust physical connectivity for power and data communication.
Product Information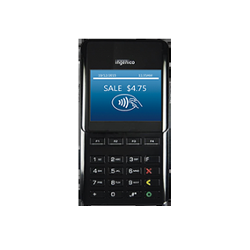 iSMP4 Companion / Datasheets
The complete payment solution to revolutionize enterprise mobility.
mPOS EMV SDK Guide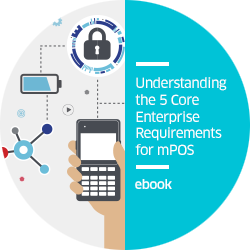 Understanding the 5 Core Enterprise Requirements for mPOS / ebook
Our free ebook - Understanding the 5 Core Enterprise Requirements for mPOS, is aimed to educate and inform merchants about the benefits of implementing enterprise mPOS strategies in their business. Download and learn more.
451 Research Impact Report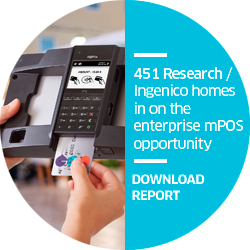 451 Research Impact Report
In this Impact Report, 451 Research's Senior Analyst, Jordan McKee provides insight into Ingenico Group's new enterprise-grade mPOS solution - the iSMP4 Companion. Download report to learn more.