Ingenico Group's TETRA SI gives ISVs and merchants complete control over the consumer experience by providing an easy-to-integrate API. By integrating with pre-certified POS solutions that route sensitive data around the ECR and back-office infrastructure, directly to the processor, the ECR is taken completely out of PCI scope.
Ingenico Group's TETRA SI is designed for businesses across multiple industries including, retail, restaurants, hotel & lodging, healthcare and transportation. The solution is also compatible with different types of payment acceptance devices ranging from fixed POS terminals to wireless or mPOS card readers. Below are the benefits of our TETRA SI solution:
PCI Scope Reduction
Merchants are seeking ways to simplify and reduce the scope of PCI security standards by reducing the footprint where cardholder data is located on their systems. Ingenico Group's TETRA SI solution helps reduce this scope, thus lowering the cost of PCI compliance and increasing the chance of audit success.
Freedom to Update the POS
Today's merchants need to be agile, capable of responding to changing consumer demands. With our TETRA SI solution, merchants no longer need to be burdened and stuck with outdated systems. Now they can simply change and update their POS and backend systems without having to go through a recertification process to be EMV compliant.
Avoid Data Breaches
With the various credit card data breaches in the news, merchants are looking for ways to reduce their vulnerability to cybercriminals by keeping secure data out of their POS environment. Ingenico Group's TETRA SI solution provides a semi-integrated architecture that keeps the sensitive credit card information away from the ECR system and helps protect sensitive cardholder information and the business from a potential data breach.
Reduce Certification Bottlenecks
With the migration to EMV, every application, device, and combination requires certification from the acquirer. For processors with hundreds of different ISV solution providers and multiple payment terminals, this can add up to thousands of different certifications, and months of work. Ingenico Group's TETRA SI solution helps reduce these bottlenecks and enables faster speed to market.
Backward Compatibility
The TETRA SI solution is also backward compatible with Ingenico Group's Telium 2 range of devices. This enables customers who already own our Telium 2 devices to take advantage of the latest security solution without having to completely upgrade and invest further.
Solution datasheet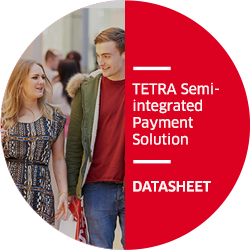 TETRA Semi-Integrated Payment Solution / Datasheets
Simplify EMV implementation and reduce PCI scope with our TETRA Semi-Integrated solution